25th Anniversary Tour - Day 32
07/18/2006 07:46:42 by Administrator
From: Tolna, North Dakota
To: Devils Lake, North Dakota
Mileage: 44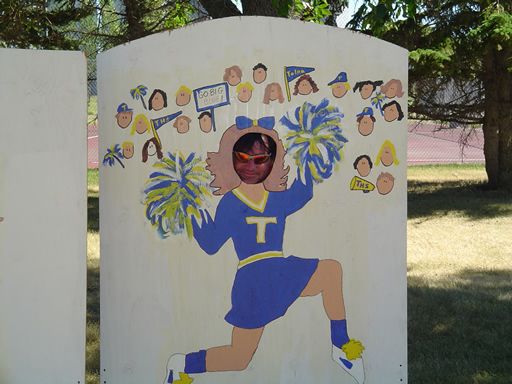 Happy Birthday Dustin, we love you and truly wish you were here riding with us!

R&J's Cafe did not open until 8:00 today, so we took our time taking down the tent. Last night we heard coyotes howling, and this morning we had tumbleweeds cross our path. Add the prairie dog spotted in Devils Lake, we truly feel we are in the west!

We had a great time at R&J's. The small cafe held about 16 people, and there were 12 of us, all locals except you know who. We were treated to both a great meal, and the people made us feel like one of them. North Dakota is a VERY friendly state, so come and visit!

Yesterday, SeeMore moved like a plow horse tilling the back 40 acres. Today, SeeMore was a wild mustang, leading his pack. We had tailwinds, OH BOY did we have tailwinds; our average speed was 15 mph. Three hours and we were done riding. In hindsight, it was a bit of a shame. We traveled through some of the most beautiful country so far on this trip (and that is saying a lot!). This part of North Dakota is the lakes region, and since 1993, North Dakota lakes have increased and grew larger. Loons, osprey, cormorants, geese, pelicans, swans, and red tailed hawks were found in abundance.

So what do you do in Devil's Lake (population 8,000, plus) with a whole afternoon to spare? Walk downtown, visit the old sections of the town and then take in a movie. We saw the new Pirates of the Caribbean, which we recommend! Tomorrow it is forecasted for headwinds so we will be heading for Rugby, the geographical center of the North America (according to the map). [Mary] Another activity, when you have an afternoon to kill, which Noel did not mention is to visit the local grocery store to see what kind of meal you can create without using refrigeration, stove, or microwave. Tonight's dinner menu consists of Havarti cheese on Wasa crackers, a little wine, and watermelon. As everyone knows Noel and I are not the most creative of cooks (Although you gotta admit tuna on cinnamon bread is pretty creative) so if you have any ideas of meals that can be created right off the grocery shelf please send them along via email. We do have a jetboil and can boil up to 2 cups of water (woohoo). Last nights dinner was pasta and Ragu, yum.