07/05/2005 03:03:29 by Administrator
From: Port Joli
To: Petite Riviere
Mileage: 53

---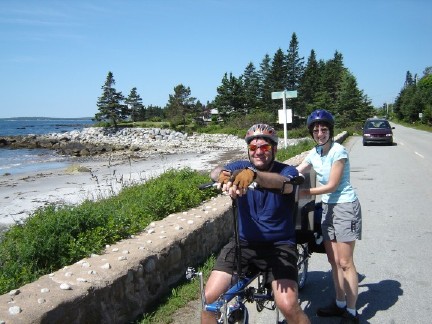 After some breakfast at the campsite we started back out on the Lighthouse Route. Going through rolling hills with views of the ocean between stretches of woods. Rode 25 miles into Liverpool and met Mom and Dad at the grocery store that was across the bridge in Brooklyn. We picked up stuff for sandwiches and breakfast supplies. We had lunch downtown at the local park. The bikers decided to try route 103 for a while (about 7 miles) instead of following the Lighthouse Route, it was pretty boring and very busy. At exit 17 we were glad to say good-bye to route 103 and rejoin, the Lighthouse Route, which we followed to Rissers Beach Provincial Park, which is, were we are camping tonight (right on the ocean!). They have built a beautiful (very long) boardwalk, which we enjoyed. It also has a very large beach. The water is cold, but I went in up to my shorts while Mary lazed around in the soft sand.
The bathrooms are primitive unless you go for a 3/4-mile hike to the other part of the campground. We have done a lot of riding the past two days. Riding these rolling hills take time away from sight seeing on foot. The weather has been as close to perfect, 70's to 80's, bright sunny skies, and 50's to 60's at night. This is not the Nova Scotia I remembered as a kid, at least not the weather!
Tonight Mom fixed lobsters for dinner!!!!! Oh my!