08/05/2008 13:00:00 by Administrator
From: Fairplay, Colorado
To: Poncha Springs, Colorado
Today: 59 miles - 2291 miles total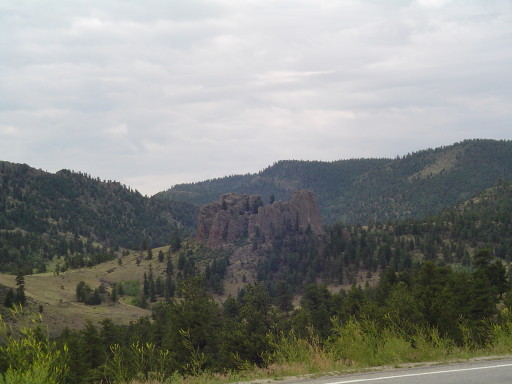 If Rte 285 was less busy, this would be a GREAT cycling route....however we can only give it a nine.

We cycled through many different climate zones and landscapes today, and we had a mountain pass to boot! It was an overcast day, which allowed the sun to paint the valley floor and mountains different shades of greens, golds, tans, and yellows. We saw many western mountain bluebirds, raptors, jays, hummingbirds, and two Rocky Mountain Sheep (near the road...but not for long after seeing SeeMore). From Fairplay, it was down hill and tail winds until we came to the beginning of Trout Creek Pass (elevation 9,346). Since we were at 9,000 feet already, only the map can really call this a pass. After the pass we continued to go down hill into the Arkansas River Valley and the small town of Johnson Village.

Johnson Village's next door neighbor is Buena Vista, we were going to make a side trip into this town to explore...but a HUGE state prison and the large volume of traffic on Rte 24 kept us on Rte 285. We stopped for snacks and Gatorade at a gas station outside the town of Nathrop. Nathrop is famous for white water rafting, and the amount of rafts being launched into the Arkansas river was quite amazing. We were wondering if there wouldn't be a huge traffic jam down river!

We are in Poncha Springs in preparation of tomorrows mountain pass of 11,312 feet (Monarch Pass). Since we are currently at 7500 feet elevation, we can really call this a pass. It is 18 miles to the top, and the rest of the 65 miles will be down hill or rolling tomorrow into the town of Gunnison. The weather man is predicting liquid sunshine all day....we will just have to see if he is right!