07/15/2008 13:00:00 by Administrator
From: Missoula, Montana
To: Lolo, Montana
Today: 28 miles - 1119 miles total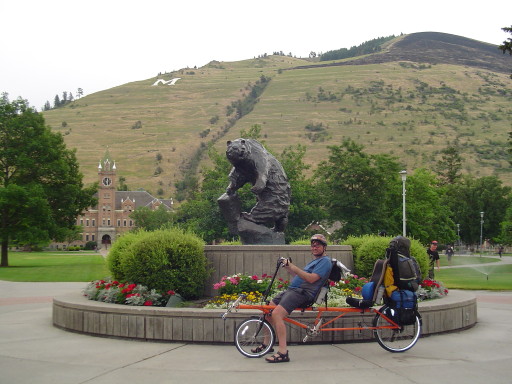 Just for your information, it is only 14 miles from last night's hotel to this one.....if your not exploring Missoula. We started our day, rolling out of the hotel around 10 am. Our first stop was Adventure Cycling Organization, they supply our maps for this Great Parks tour. If you want to have an easier time bicycle touring, we recommend purchasing maps from Adventure Cycling. See the link on the right side of this page.

We had a polaroid taken (including SeeMore) by Teri in the front of the building. She offered us ice cream, water, water bottles, juice, and soda. A very nice lady. Then Gary asked if he could take a picture of SeeMore (because he look so unusual) for a chance to appear on the back cover of their magazine. It was done in black and white, so all my work shining SeeMore up in the morning (while the Rear Admiral slept in), was for naught! We talked to Phil (a fellow bicycle tourist) who was riding from Seattle to Ohio (his home) with very very little gear. He was "credit carding it", which means he was spending his nights in hotels along the way. While we were talking to him, SeeMore overheard the conversation about carrying very little...and promptly fell over, crushing the Rear Admiral's "pretty blue" helmet. We then talked to Richard (a fellow bicycle tourist from New Hampshire!) , who arrived just after us. He started in New Hampshire, and is riding to Oregon.

We then cycled all over Missoula. First finding a new helmet for the Rear Admiral. They didn't have a "pretty blue" helmet, so she got a black one. Now she looks like a biker babe! Then we cycled the bicycle paths to the University of Montana (see above photo) and explored as much of Missoula as we cared to( we even went shopping at the mall!). Missoula is a bicycle mecca. Bicycle paths, bicycle lanes, bicycle stores, bicycle racks on buses, and bicycles of all shapes and sizes being pedaled all over the city. With a population of 60,000, the University, and the love affair with the bike, this is a town that I could settle down in!

Tonight we are in Lolo, the next town over. We had a go slow day, and that's what we did. Saw bald eagles flying over our heads, and saw a herd of bison(see photo below). I just finished putting on a new front chain on SeeMore, hopefully my chain maintenance has improved since going down Sunwapta pass.