07/29/2008 13:00:00 by Administrator
From: Riverside, Wyoming
To: Walden, Colorado
Today: 55 miles - 1964 miles total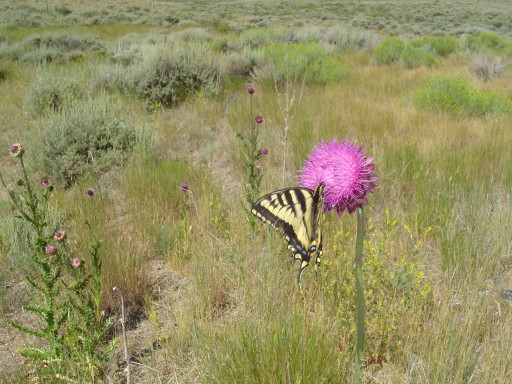 Happy Birthday Aunt Patty!

Last night we had dinner at the Bear Trap cafe/bar in beautiful downtown Riverside (population 58, maybe). We had ShockTop beer (on tap), the Rear Admiral had Chicken Fried Steak, and I settled for the Bear Trap burger. This morning at the Bear Trap I had Cowboy French Toast (French Toast with Frosted Flake coating!). What great eats! So if your beautiful downtown Riverside Wyoming, with the North Platte flowing through town....stop in and enjoy the great food and drink.

Route 230 (which changes to 125 in Colorado) was very quiet and rolling. We spent the morning seeing the same prairie grass, sage bush, snow fence...etc... as the last couple of days. We have cycled a great deal in Wyoming, and we can take it off our lists of things we need to do. About a mile from the Colorado border, we met Daniel, another adventure cyclist on the Transamerica route. Daniel is of college age, and is from New Zealand. He is enjoying this view of America from a bicycle. We must have talked for a half an hour, in the middle of no where (well about a mile from Colorado's border!). It was then on to the border, and (it seemed) the farther we cycled away from Wyoming, the prettier things got! Still a lot of sage bush, but now snow dotted mountains and trees on both sides of the road appeared. We cycled into Cowdrey Colorado, where we had a picnic lunch by the two ponds in town. While we ate we watched them move a heard of cattle down the road to a new pasture (see photo below). It was then on to Walden Colorado (you can now start humming the tune from Gilligan's Island).

We were two miles outside of Cowdrey (about seven miles from Walden Colorado), when we noticed the sky turning BLACK. In our favorite state, Wyoming, when black skies appeared every afternoon they never produced anything but wind. Colorado black skies produce liquid sunshine....hum....rain...hum....lots of rain...hum....mega rain....hum....cold mega rain....hum...HAIL! Oh well, we just cycled through it. Two miles from Walden, it was sunny and 72 degrees. and we pretended SeeMore was a huge blow dryer. Walden has a population of 734 and has 5 motels. Every motel was booked solid by oil well workers or by an automobile club. No big deal, the Adventure Cycling maps state that camping in the city park is ok, as long as you ask the sheriff and you can use the city pool's showers (for $3.00). The park is beautiful, has lots of flower beds, green grass, picnic tables, flush rest rooms, and is very quiet! It is also located next to the ball field, so you can watch a game of slow pitch softball. It is 2 blocks from downtown. We suggest you skip the motels, and set up your tent. But be warned, set it up on the north side of the park and be sure to tell the sheriff or they will turn the water sprinklers on you at 6:00 am.

Also staying at the park are 4 college age young men from Oregon. They are following the Transamerica route also, and are having a BLAST (except they did not like Kentucky because of the dogs that chased them and Kansas because it was HOT). They are very excited about this neck of the journey. We exchanged cycling stores, until they needed to eat. We also told them about sleeping on the north side of the park, but I don't think they are going to listen to us.

The Prince of Wales II is up, the ball game is about to start, and we have full bellies. I think I will only be able to watch a couple of innings....the Prince of Wales II is calling my name.