07/04/2006 04:03:45 by Administrator
From: Clare, Michigan
To: Manitowoc, Wisconsin
Mileage: 117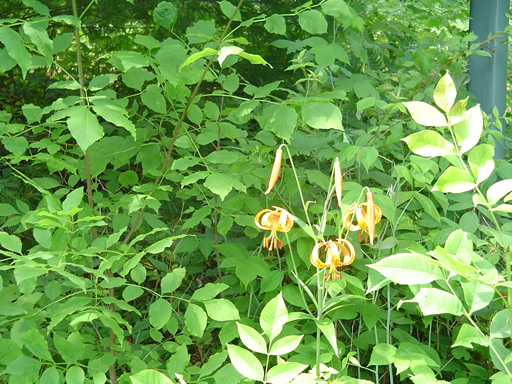 OUR FIRST CENTURY, now that's how cyclists celebrate the 4th of July! We have been giving our rides numbers with 10 being the best. We have to give today's ride an eleven. The temperature was into the high seventies, the wind was mostly a cross wind, and the route needs to be ridden again!

The ferry, that crosses Lake Michigan, departs Ludington Michigan only twice daily at 8:00 a.m. or 7:55 p.m. We both started the day with a "let's see" attitude, with an eye on the evening ferry ride. From Clare to Luther we rode through the Michigan evergreen forest. We diverted from the Adventure Cycling maps from Farwell and rode route 115. Because it was early morning and a holiday, there was less traffic but it was still a busy road. It had two climbs, that started our day's ride. If it wasn't for the holiday, we would recommend avoiding 115 because of the high traffic. We exited 115 outside of Temple, and the rest of the ride into Luther (about 30 miles) was more up than down BUT very quiet. If this route was near our home, we would put it in our rotation of rides.

We had lunch at the Logger's Bar and Grill in beautiful downtown Luther (population 339, maybe). We were both feeling very good so we kept riding towards Free Soil (population 177, maybe). This part of the ride was level to down hill, and we rode by lakes and national forests. This section of Michigan was very unexpected for both Mary and I, we never realized that there was any part of Michigan that was this rural. In Free Soil, we had an ice cream and asked SeeMore if he was interested running free? Up to this point, we were riding along at our normal 10 to 11 mph. What a champ SeeMore is, we must have averaged 18 mph for the last 22 miles because we arrived at the ferry at about 6:45 pm (just over an hour). We were just in time to purchase tickets and board the ferry seamlessly.

We went up to the top deck (bow), got a couple of lounge chairs and rested until the ship departed. The ride across Lake Michigan takes four hours, and we stood watching the other ships, the water, the setting sun; and towards the end, the fireworks from the bow.

During the cruise we met John Devlin, who kindly took our photo as we watched the setting sun. You can visit his website WeLoveBirds.net by clicking the link. He is a retired 7th grade computer teacher from Minnesota. THANKS JOHN!

Sometimes I wish that words I type could do a better job of describing the scenery that surrounds us; I just can't do justice to this early dusk lake crossing. I understand why people are attracted to sailing, there is something mesmerizing about the experience and the realization that we are truly such small beings on this big planet.

We got off the ferry, and had a three mile night ride through the city of Manitowoc. Another surreal experience, to be cycling through a city in the middle of the night. Everyone was till up and at almost every block people were still setting of fireworks as we rode past. If felt as though the city of Manitowoc was welcoming SeeMore like an important celebrity!