06/30/2006 03:25:03 by Administrator
From: Port Stanley, Ontario
To: Wallaceburg, Ontario
Mileage: 85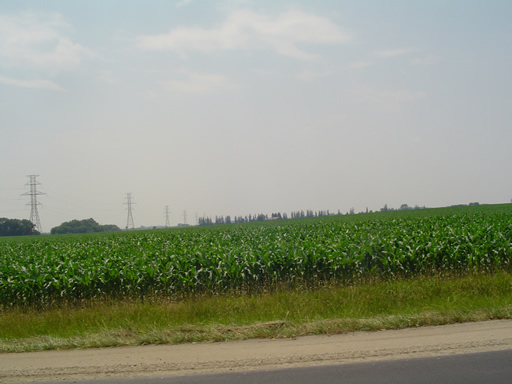 As you can tell by these two beautiful photos, today we were in the middle of Ontario farmland. There was corn to the left, there was corn to the right, there was corn to the north, and there was corn to the south. Toss in some soybean, wheat, lettuce, and potato fields and you can picture our views today.

We had a good ride and there was plenty to see, even though there were no Kodak moments (the bluebird was too quick for the photographer). The mainly flat roads were pretty busy today, but the Canadian drivers really look out for us cyclists. We find them very courteous.

We had a very filling meal at breakfast at the Windjammer Inn. Fresh rhubarb and strawberry jam, chive scrabbled eggs, fresh fruit, and home made breads. So when we pulled into Morpeth (population maybe 20) we had ridden 46 miles and only needed a little something to eat, but not much. The combo gas station / grocery store / hardware store / restaurant was all that was available. The Rear Admiral ordered a hamburger, but said, "I can only eat half, and you can eat the other half. Then she proceeded to find the powder room. Now I knew she meant for me to order my own hamburger, and I could have her other half. But I wasn't really hungry, and the way she said it sounded like I could ONLY eat the other half of her hamburger. As Mary disappeared, the lady behind the counter said, "How many miles did you ride today so far?" I told her. "And she is only going to let you have 1/2 a hamburger?" I nodded, then I grabbed a small bag of potato chips and said, "I don't care what she said, and I'm eating these too!" The woman at the counter eyed Mary the whole time we had our lunch.

I had a laugh for about 10 miles after our lunch stop. Heck, I'm laughing so hard now, as I type this, that I'm crying (maybe you had to be there).

We stopped again in Dresden for some ice cream, and a stretch. Then on to Wallaceburg where we pulled into the fire station to ask for directions to our lodgings for this evening. If you ever need directions, go to the fire station. Not only will you get good information, the firemen are super nice people.