07/10/2006 04:45:02 by Administrator
From: Amery, Wisconsin
To: St. Croix Falls, Wisconsin
Mileage: 27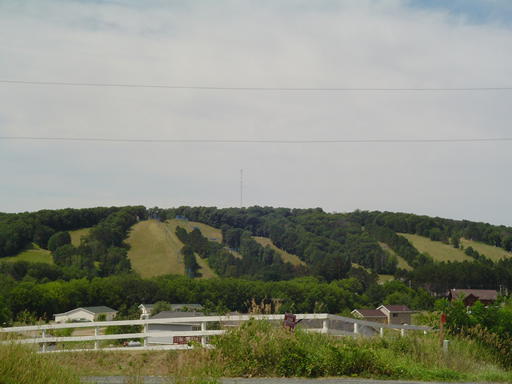 Happy Birthday Aunt Lynn!

Thank you all who been writing to us, and sharing our travels!! We really enjoy reading your comments, and encouragements.

Also we read Mandy and Mikes website (the young couple riding from Boston to Montana), we are glad you are safe and happy, try to stay out of Polk county Wisconsin or put an extra pillow on your bicycle seats while riding through!

Today was a short day, on purpose. We have arrived at the St Croix River, and are bridge away from Minnesota. Question: If you see ski slopes in you're travels, does that mean that you're riding in hilly country? Answer: Yes and it is time for a break!!

We finally started pedaling at 10:30 today. We stopped to have lunch in Dresser and made a command decision to ride to St. Croix Falls (off the Adventure Cycling map). After lunch and a pretty steep climb, we stopped at the St. Croix Fall's information booth and asked where we could find the biggest, baddest, steepest hill that St. Croix Falls had to offer, and the answer was Maple Street. So for pure enjoyment we rode our fully loaded tandem up this incredible, ridiculously steep hill in search of some retail shopping for the Rear Admiral. I think I lost part of a left lung some where along the way. . . Truthfully, we asked how to bike safely to this area and town, and the nice Wisconsin lady said to take Maple Street. Either the nice lady has never biked a day in her life or she was getting back at me for complaining about Polk County roads! Mary is sure she sent us this way on purpose as a result of the few roadway improvement "suggestions" I made.

After the near death experience and the retail-shopping fix, SeeMore wanted a night in a hotel room, with a pool. SeeMore is part of the team, and gets to vote along with the rest of us. So now we are living large in St. Croix Falls.