07/24/2006 15:53:08 by Administrator
From: Culbertson, Montana
To: Glasgow, Montana
Mileage: 103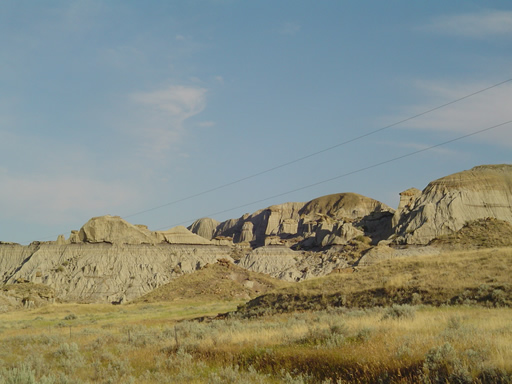 Today we earned our keep. Based on cyclist's journal entries and a lot of local advice from Montana and North Dakota residents; we had been cautioned to be careful crossing the Fort Peck Indian reservation. We were told not to spend the night in Wolf Point, and be careful in the small towns along the way. Our plan was to cross the reservation with minimal stops making for a very long day, throw in temperatures in the high 90's and it makes for one tough day. We're not sure if the advice we received was somewhat prejudgiced or maybe we're just lucky but our trip though the reservation was just fine. We stopped in two towns and met nothing but pleasant folks.

We left early, knowing it was going to reach 97 by 3:00. Had breakfast at the Wild West Cafe in beautiful downtown Culbertson.

We rode through Brockton (the first town on the reservation) then stopped in Poplar at a convenience store / casino. All the windows and doors on the building were covered with metal, but inside was a typical modern convenience store (minus the slot machines) and the people were very nice. We rode into Wolf Point (they have a McDonalds! a rare Montana sighting on this route) and had lunch at the Diner/Drive In on Route 2. There were more non Native Americans (10 to 1 ratio) then Native Americans, and we had a conversation with an elderly white lady who 6 years ago moved back to Wolf Point because of the California's high crime rate. In Wolf Point they have a couple of very nice (modern) looking hotels, we should have stopped.

Almost all the drivers waved, or honked their horns, or gave us thumbs up as we rode. We were tired and hot, and in need of shade. We made it to Nashua and entered the bar for free cigarette smoke, shade, and ice water. We talked to the bartender until our bodies were ready for the last 15 miles into Glasgow. Montana sun is pretty strong the best way to handle these warmer days is to simply wrap it up by 1 or 2. For some reason the hottest time of day is between 2 and 5. That's when it's time to find some shade.

We only had one day on the Fort Peck Indian reservation, our experience was best summed up by what an Canadian couple told us this evening. "We think people forget that it not the 1890's anymore".