07/10/2008 13:00:00 by Administrator
From: Waterton, Alberta
To: Rising Sun Campground, Glacier NP Montana
Today: 57 miles - 842 miles total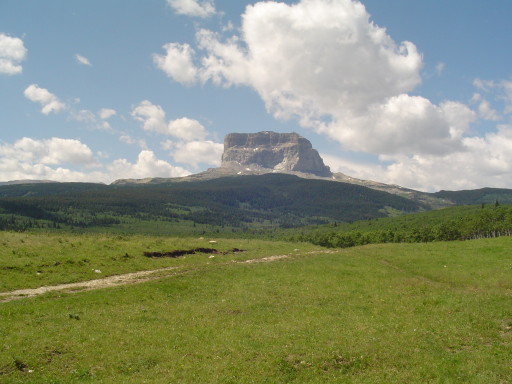 Happy Birthday Aunt Lynn!

Buffet breakfast at downtown Waterton Villege. We both manage to make ourselves some lumberjack specials. I ate more food, then the Rear Admiral.... I was REALLY hungry. Prior to the breakfast buffet, we broke camp to blue blue skies, and by the time we were heading towards breakfast the clouds and mist had rolled in, and it was pea soup! You couldn't see The Prince of Wales, the Rockies, or even the lake. It changed in a snap of a finger.

Today's climb was on Rte 6 (Alberta's side) and Rte 17 (Montana's side) which is called Chief Mountain International Highway (photo above). Even though it is not a "pass", it wasn't the easiest to get over. What you do is climb from 4200 feet to about 5300 feet in 8 miles. Then you drop down back to 4400 feet, before going up again to 5200 feet at the US/Canadian border. The first part of the climb was done in clouds and mist. We could only see about 50 yards in any direction, and had our rear light (blinky) on. Coming down it was burrrrrrr.....cold, so we put on more clothes. As soon as we started the second part of the climb, the sun came out and it was time to strip out of the extra clothes, and put on sunscreen!

We stopped only briefly, about a mile from the border to eat our oranges. We didn't want the custom agents to take ANY food away from us, so we ate the oranges! We breezed through customs, the border guard was only interested if we were bringing any rocks or firewood into the US. We thought this was a funny question since, here we are, a fully loaded orange colored recumbent tandem...and he thinks we have ROCKS or WOOD in our panniers? As soon as we got out of ear shot, the Rear Admiral and I had to pull SeeMore over before we laughed ourselves off the road. Obviously the guard never rode a fully load bike up a mountain before.

I mentioned breezing through customs, well after customs the good ole Chinook winds were back in full force. SeeMore was getting pushed around, and once he was blown from the right side of the road, all the way to the left side! We had a picnic lunch (holding tightly to our PB&J sandwiches) at an overlook . With no trees or shelter we huddled in a sunny spot on the parking lot, trying not to get blown away. Then continued to ride into the wind until we had to escape for a while, in a cafe in Babb......cherry cheesecake sure helps!

We have the Prince of Wales II erected at the Rising Sun campground, and are about to search for food. There is a lot of evidence of the 2006 forest fire that prevented us from doing the Road to the Sun on our trip across country. But it looks like they somehow managed to save portions of the standing forests, so it doesn't look as devastating as what we have seen in Yellowstone etc. Tomorrow we will try to get up and over Logan Pass, oh boy!