07/03/2008 13:00:00 by Administrator
From: Rampart Creek Campground, Alberta
To: Lake Louise Campground, Alberta
Today: 60 miles - 423 miles total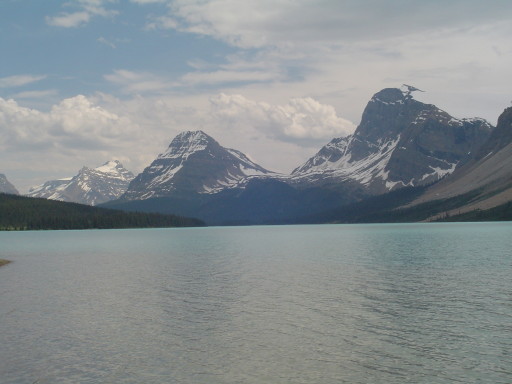 Broke camp late (9:30) we were trying to give the Rear Admiral some more sleeping time, besides we only had to do Bow Pass (7,003 ft.) today. No big deal, right?

About 3 miles down the road, SeeMore's front chain lost a link. While talking to the couple yesterday about their new Seavo, I did not pay attention fully to SeeMore's chain and idler repair. I just love talking to people about their ride, especially another recumbent tandem! We were riding along when all the sudden we heard a jingling sound, then the front chain came off. I walked back to see if I could find the chain link, but you guessed right...it was missing! I have 4 spares, and I spent a lot of time making sure this one was on right.

If you get on the road before 10, it seems like the Canadian campers love to sleep in, so you have the parkway to yourself. So far, the RVers and trucks have been no problem. We do have a wide shoulder. The only thing is the noise. The engine noise of the motor vehicles seems to vibrate off of the mountains. Besides the noise, what a way to see the Icefields of Jasper and Banff from SeeMore's seats. We are just plain "blown away". I might be bias, but because we are traveling north to south, I think we are seeing more glaciers. My theory is that most of the glaciers are north facing because they are hidden from direct sunlight....then again, I could be full of it.

Compared to yesterday's lung donating event, Bow pass was easy. We stopped one time to get our heartbeats back to normal, then about 2 miles from the top we had lunch, peanut butter and jelly sandwiches and Doritos! PBJs never tasted better. At the lunch break we also encounter two ladies, one in a convertible, and one in a Volvo station wagon. We had seen these two a number of times over the past two days, passing us...then at a rest stop...then passing us again. Not sure what they were doing, we were afraid to ask!

After Bow pass, we stopped at Bow Lake for a walking break. What a beautiful glacier lake, as pretty as any you will find, and quiet. In the parking lots or pull overs in the park, there are a lot of Asian tourist, and they all seem like they want a picture or video of SeeMore. He is becoming pretty hard to live with. He thinks you will see him make "Asian YouTube top 10" watched video list!

Tonight we are in busy Lake Louise campground. We are surrounded by electric fence which is supposed to keep the bears out, and the campers in. It reminds us of the movie "Jurassic Park". We had diner at the deli in town, can you spell E-X-P-E-N-S-I-V-E? Tomorrow we will join the tourists at Lake Louise. I am wondering if I will get a good night sleep tonight. Last time we were here, I did not sleep a wink. The trains run all night long and for some reason they sound their whistle as they pass the camp ground? It was pretty loud inside a camper not sure what it will be like while outside in a tent? I expect to hear them 10 fold.