07/31/2006 04:05:39 by Administrator
From: Cardston, Alberta
To: Waterton, Alberta
Mileage: 37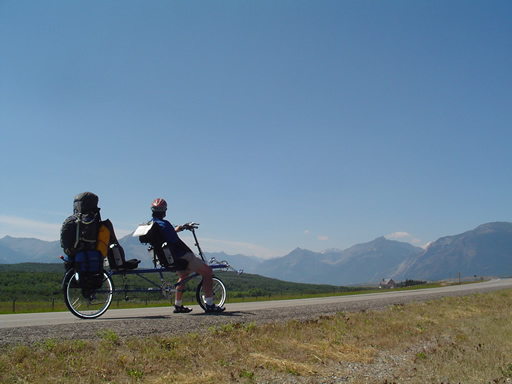 Trapped, but don't feel too sorry for us. Glacier National Park is officially off limits due to wildfires. As I write this, there are approximately 30,000 acres involved. Saint Mary is completely evacuated, the Road to the Sun is closed, Rte 83 is closed, the two port of entries from Waterton are closed. The park rangers here believe that it will be at least a couple of days before they open up the borders, no time estimates on opening Saint Mary.

So when life gives you lemons, make lemonade. I am typing today's entry from the 3rd floor balcony of the Prince of Wales Hotel, in Waterton National Park. The view in front of me is of Waterton Lake, and the Canadian Rockies. Waterton Lake is what remains of a large Glacier, and is horseshoed in between these beautiful mountains.

The Prince of Wales Hotel is one of Grand Resort Hotels built by the Northern Railroad to attract wealthy travelers back in the 1920's; there are other hotels in Glacier, Yellowstone, and the Grand Canyon (to name a few), which were built at the height of railroad travel. Thank goodness for digital cameras, because the amount of pictures the Rear Admiral has taken today (if we had to pay for film and processing) would have me working as a bell boy for a couple of years in order to pay for them.

No amount of photos, and no amount of words can accurately capture the beauty outside our window. So I will not waste any more space, except to urge the reader to explore Waterton yourself.

So we need to detour by traveling north, through Crowsnest pass on route 3 and down route 93 to Eureka Montana to get back on the Adventure Cyclist's Northern tier.

As we have found with our journey so far. You pay for what you get and Today's ride was no exception it was extremely windy plus we had a lot of climbing (comes with the territory). The winds off the Rockies are called the Chinook winds and because of them we even had to pedal on the down hills. Today was a day for staying in the low gears. The views made it well worth it though. Simply OUTSTANDING and toss in a wolverine sighting and tons of eagles for extra fun.

Dustin and Kate we really wish you could be with us here. Close your eyes and picture Lake Louise in Baniff. This is just as pretty. Daddy keeps eyeing the map to the north and muttering "it's just up to road. . . ."