07/23/2007 03:51:11 by Administrator
From: South Haven, Michigan
To: Edmore, Michigan
Mileage: 41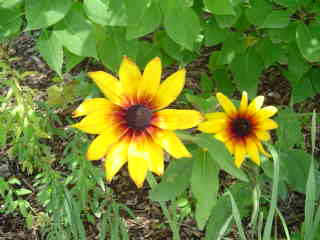 The Michigan has a jewel, in the Kal-Haven trail! The trail is a 33.5 mile trail with end points in Kalamazoo and South Haven, a Lake Michigan resort area.



This is the second time that I have ridden the trail, but the first time for the Rear Admiral. Before SeeMore and Clyde I rode a Schwinn hybrid single bike, named The Black Widow. She was aptly named because when I wasn't being a husband, father, and provider, I was with the Black Widow. So the last time I rode this gem, I was alone while the Rear Admiral watched the kids.



This is a beautiful trail. Much of it is wooded with abundant wildlife. There are picnic tables at some of the trail heads. And this trail even comes with a covered bridge! The trail is hard packed for easy cycling. In places you feel like your in a tunnel with the trees all around you and over head. There is a beautiful lake just west of Berlamont, and you pass many farms and fields. Again, if you are in the area, this is a must ride. The Kalamazoo trail head is on 10th Street north of Highway 43 just west of Kalamazoo. The South Haven trail head is on the Black River just off Highway A2.


Both photos were taken the day before when we visited the Frederik Meijer Gardens and Sculputres, a must stop when you visit Grand Rapids.