08/22/2008 13:00:00 by Administrator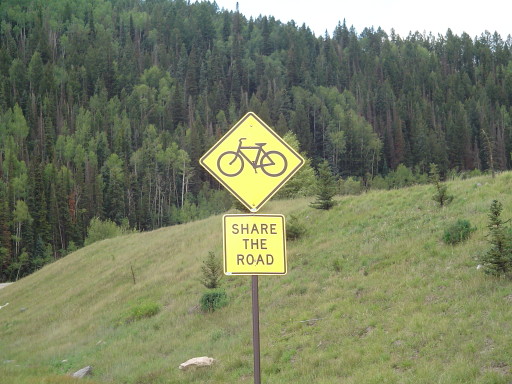 This tour's last ride is now a week old, and it is time to summarize and reflect on the journey.

First for those who like statistics, here they are:

Major Climbs
Summit
1
Sunwapta Pass
6,676
2
Bow Pass
7,003
3
Vermilion Pass
5,415
4
Sinclair Pass
4,875
5
Crowsnest Pass
4,457
6
Chief Mountain International Highway
5,300
7
Chief Mountain International Highway
5,400
8
Logans Pass
6,680
9
Lost Trail Pass
7,040
10
Chief Joseph Pass
7,241
11
Big Hole Pass
7,360
12
Badger Pass
6,760
13
SeeMore's pass*
7,000
14
Craig Pass
8,261
15
Gary's Pass*
8,391
16
Togwotee Pass
9,658
17
Muddy Gap
6,638
18
Continental Divide
7,174
19
Willow Creek Pass
9,683
20
Rocky Mountain NP Visitor Center
11,796
21
Berthoud Pass
11,315
22
Loveland Pass
11,990
23
Hoosier Pass
11,541
24
Trout Creek Pass
9,346
25
Monarch Pass
11,312
26
Dallas Divide
8,970
27
Lizard Head Pass
10,222
* Our names for the pass
Total Elevation Climbed
79824
Feet
One day - 0 miles
47 Days - 2609 miles
55.5 avg
Miles
Total - 48 Days - 2609 miles
54.4 avg
Miles
Shortest Day Granby, Colorado to Winter Park
22
Miles
Longest Day Lander, Wyoming to Lamont, Wyoming
101
Miles
The Rear Admiral and I agree, the toughest part of the ride was the section of Wyoming, between Lander and Rawlin. On a tour with a lot of elevation changes, it is funny that the flattest part of the journey was the most challenging; but that is what life is all about...the unexpected.
We trained for about 9 months, going to the gym 3 days a week for 15 to 18 miles of stationary bike workout. However, this really just kept the legs moving. We are still under the opinion that you can not train for a tour. Your body starts getting used to everything after day 5 or so. We are not super athletes, in my case I started the trip at least 30 pounds over weight (I lost 20 on tour). I think we proved that Adventure Cycling' Great Parks Tour can be accomplished (and enjoyed) by two healthy 49 year olds, on a recumbent tandem. SeeMore is a pretty unconventional looking bicycle, and the orange mountain goat handled the climbs very well. The worst part (for us) was going down some of the passes. You need to be careful of road conditions, vehicle traffic, speed, and your brakes. V brakes can get very hot, very fast. You can quickly warp you rims, and make them untrue, by using too much brake. As mentioned several times in the log, we think not having an extra drum brake (on a tandem) would make this tour dangerous. Lack of communication on descents, or a riding partner who has little trust in the captain, also put the long steep downhills in jeopardy. I can not thank Mary enough for her companionship and trust in my cycling ability!
As silly as this sounds, I enjoyed climbing the most. The jury is still out with the Rear Admiral. I enjoyed them because of the lack of speed, it made life slow down and made me see even more. We both agree that Sunwapta Pass was our hardest pass of the trip. We are unsure if it was the first pass, the grade, altitude adjustment, or a combination of all. When we finally arrived at the summit, both of us thought that this tour was in trouble. We were both sucking wind at 6,676 feet of elevation..how would we do with all of those taller passes ahead?
One pedal at a time, is our mantra...and it works well. It happens over and over again, and it still surprises us when it happens. You go around a corner, over a hill, or turn a different direction, and the journey changes (well maybe not as fast in Wyoming). This ride was very challenging, and we list the following reasons for folks considering this tour so they can be better prepared for them: (1) Wind, it's basic earth science. Hot air rises. Most of the time when climbing a pass, you have tailwind...but this is not always the case. Most of the time when going down a pass, you have headwinds...these are much appreciated! While cycling along the mountains, you can experience very fast cross winds. Like the weather in the mountains, the winds are unpredictable. The temperatures are pretty mild in the afternoon, but in the morning it can be quite chilly. When riding along the east side of the mountains, afternoon storms occur daily, around 2:00 p.m.. (2) Traffic, hey we are visiting North America's Great Parks! However, due to the high gas prices this summer, we believe, the vehicle traffic in the parks was way down. This did not mean that the roads leading into the parks...were quiet country roads. Adventure Cycling did it's very best, but the roads on the Northern Tier in 2006 were quieter. Additionally, there are two times when you need to ride on Interstate highways to get from point A to point B. Interstate 80 in Wyoming for 13 miles and Interstate 80 for 5 miles in Colorado. They do have wide shoulders, but we do not believe SeeMore will ever get use to them. (3) This tour also puts more strain on equipment and bodies. SeeMore held up very well, but we did spend more time making sure things were going well. I replaced a chain, we had a tire blow out, my captains seat squeaked, we replaced both tires, we had 3 flats, our front idler bolt is bent, I wore through my cleats twice (probably due to a combination of brass cleats and more hiking), adjusting the transmission (sometimes the front, sometimes the back) was a weekly event, double checking the brakes on every pass before going down hill, and we now can not pedal backwards without wondering if the front chain will stay in the cranks. As you can see nothing major (except the blowout), still a lot more stress on the equipment. As far as my body, I hit my knee on a concrete picnic table in Wyoming...and thought the tour was in trouble for about half a day. My usual bicycling tour bee sting. Other then both of us donating our lungs to Sunwapta Pass, and having our hands frozen by terror (tightly wrapped on the handle bars) on our trip down to Radium Hot Springs... our body adjusted very well, and thanks to SeeMore...very little aches and pains. (4) The very worst part of the trip was the airline flight from Manchester to Edmonton, and from Durango to Manchester.
In conclusion, what a FANTASTIC journey!!! Visiting National Parks (or any land set aside for public use) on a bicycle is a pure joy. We can not recommend it enough. Both the parts (North and South) of Adventure Cycling's Great Parks Tour are well worth it, even if you can only do one part. We strongly believe that Adventure Cycling should put Yellowstone and Tetons National Park (officially on the Transamerica tour) into the Great Parks Tour; so the tour has a more continuous feel to it. In other words, a complete set of maps titled Great Parks (including Yellowstone and Tetons) instead of using the Transamerica tour as a link between the North and South sections. Please, quietly remember that Black Canyon of the Gunnison is a real gem...but please don't tell too many people! We are again indebted to Mom and Dad for being there at the end to help of tie up the loose ends and get us home; Perry and Roberta, thank you for adopting Sammy for the summer and treating her as though she were your own; and a special thanks to Kate for keeping an eye on all the stuff at home between your hikes . We couldn't do these tours with out all of your support!