25th Anniversary Tour - Day 42
07/28/2006 03:58:03 by Administrator
From: Havre, Montana
To: Chester, Montana
Mileage: 64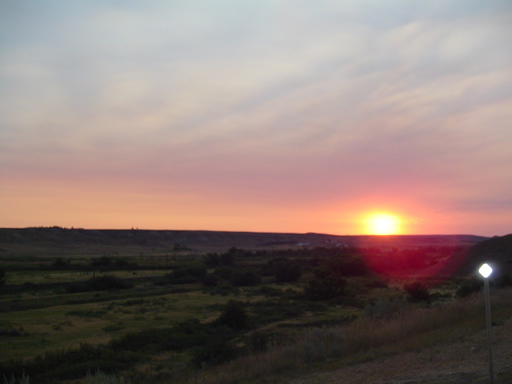 As you ride along eastern Montana Route 2, there are two things that are a constant (no, one of them is not wheat fields!). There are small white crosses that mark where people have lost their lives in an automobile accident (sometimes there are multiple crosses, we've seen 8 at one site) and you also see anti methamphetamine advertisements (which come in all sizes and shapes).

In a grocery store, a young lady assured us that the whole state of Montana was a bunch of meth-heads. The billboards, carvings, sculptures, and others are a competition the state has going. Individuals with the winning anti methamphetamine messages will receive a cash prize, we think Montana has set aside $300,000 for awards. From an outsider's perspective, it still seems like the whole state of Montana has a methamphetamine problem. Crossing Montana on the "High-Line" route 2 can be a very beautiful and scenic trip. It is so vast and the farm fields have their own beauty in the contrasting colors. But route 2 is also home to many dying towns, we've passed through so many towns that simply have boarded up the windows and gone to seed. That combined with the crosses and Meth displays can wear you down, at times. I wonder if anyone from the Montana department of tourism has taken a ride out this way?

We got an early start today because the temperatures were going to reach 99 and the westerly winds were going to reach 20 mph as the day progressed. It was a great ride because we beat the heat and the wind! We were up out of the river valley and back into farmland again. We could see the Sweet Grass Hills that are a series of mountains that reach almost 7000 ft. They were located northwest of us, about 50 miles (guessing) in the distance. Wheat fields again dominated the scenery today. We passed a small heard of Antelope on the run and two golden eagles. As we rode, we began to feel smaller and smaller. We can't imagine the time and effort it must take to grow all of this grain. We passed one farm with 45-grain silos.

We met three other "west to east" cyclists. Doug was riding solo and just finished riding Glacier National Park. He had the biggest smile as he told us of his adventures in Glacier. Just another super cyclist, out for a little bike ride. After trading information, he headed for Havre, and we went into Rudyard to find early lunch. You can read more about his ride at: http://www.crazyguyonabike.com/journal/doug2006

The other was an older couple from Ohio. We met them here in the Chester library. They looked pretty sun burnt, and we really didn't talk very much. They were pushing on, but using the library to get out of the heat for a while.

We had lunch at the Eagle Nest cafe in downtown Rudyard (population 275, maybe). We recommend stopping in and having lunch. We tried to tour the town's Depot Museum, but the museum was locked up pretty tight. No one home.

We are in the MX Motel, away from the heat and safe. The sign for the motel reads: Vacancies - Motel for Sale - CHEAP, I hope this will give you readers some idea of the deluxe accommodations we find ourselves in. Only the best for the Rear Admiral and SeeMore!