25th Anniversary Tour - Day 49
08/04/2006 04:12:30 by Administrator
From: Eureka, Montana
To: Libby, Montana
Mileage: 68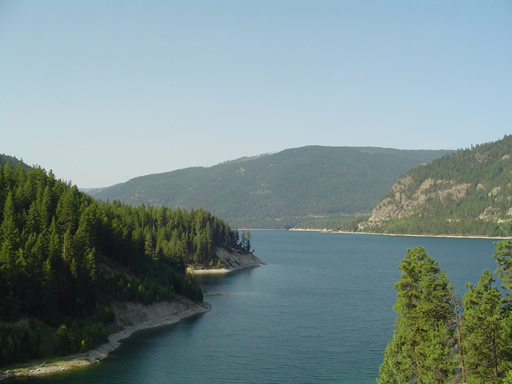 WOW!

We think we found Cycling Heaven on Route 37 from Eureka to Libby. Cycling heaven is 65 miles of ospreys, bald eagles, mountains, Lake Koocanusa, Kootenai River, and a quiet road. Our eyes and brains hurt from trying to enjoy all that was around us. We found ourselves not saying anything for long stretches, just lost in our own thoughts. These two photos are all we need to explain.

We met a fellow teacher, cycling across on the northern tier. Fred Brown is biking, with his wife Gania following in a motor home, across America from west to east. You can read more about his adventures at: http://web.mac.com/fbrown5/iWeb/Bike%20Trip/Welcome.html

We took a rest break at the Libby Dam. Libby Dam is the culmination of years of effort on the part of both the United States and Canada to develop a flood control plan for the Columbia River basin. Lake Koocanusa was named by using the KOO in Kootenai River, the CAN in Canada and USA. The Kootenai River is the third largest tributary of the Columbia River, contributing almost 20 percent of the total water in the lower Columbia. The dam stands 422 feet tall and about one-half mile long and creates a reservoir (Lake Koocanusa) which provided the backdrop of our canvas today.