25th Anniversary Tour - Day 50
08/05/2006 04:18:40 by Administrator
From: Libby, Montana
To: East Hope, Idaho
Mileage: 84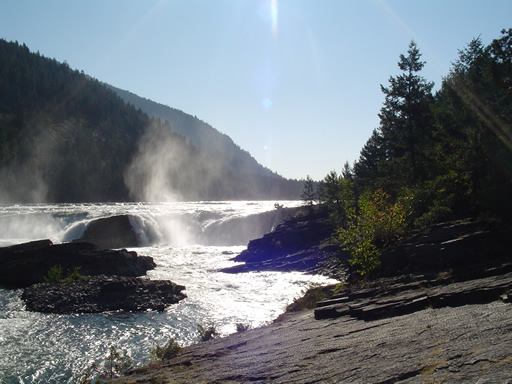 Along Route 2 heading west out of Libby brings you to Kootenai Falls hiking area. There are two short trails one which leads to a swinging bridge and the other to the falls. Both hikes led to beautiful views of the falls and white water. After exploring and taking photos we were back on the bike for just a short jaunt on route 2 until our turn off onto route 56.

Route 56 snakes through the Cabinet Mountains following the Bull River; it is a fairly quiet route with minimal traffic. The temperatures were in the 70's and the skies were bright blue. Just another stellar ride though the mountains! We stopped for a picnic lunch at Dorr Skeels, a USFS campground on Bull Lake. Each of the tent sites had lakefront. Put this one down in the book to return to some day it was beautiful.

It was a shame when Route 56 came to an end. Our next road was route 200, which was moderately busy with no shoulders. Adventuring Cycling does try to divert you to side roads where possible, and we recommend taking their advice. We crossed into Idaho without a sign but we knew something was different when the road surface went from potholes and moguls to smooth flat new pavement. Idaho we love your roads! Just after crossing the state line we met three cyclists heading west from Sandpoint, ID to Glacier. Joe, Rocky and Nick (Rocky's 17 year old son). We discussed travels for a while and Joe extended an invitation if we needed a place to stay in Seattle but both of our schedules are off. Thank you for the kindness. We are overwhelmed with how many nice people we have met in our travels.

The end of our day brought us to the Sam Owen Campground (USFS). The campground was full but while looking for the campground host a gentleman stopped us and offered us the use of the tent pad in his site. Fred and his wife Karen are retired and on the road vacationing in their 5th wheeler. Fred has done some long distance touring along the Pacific Coast highway and knows the feeling of "no room left at the inn". We eventually did find the campground host and were able to procure our own site, right at the waters edge on Lake Pend Oreille! The campground host (Joe) allowed us to share his site, which was very large and had a nice grassy knoll. After a swim in this pristine lake and a quick bite to eat we sat and watched the sunset from our own bench.