North to South Tour - Day 3
06/27/2008 13:00:00 by Administrator
From: Kapasiwin, Alberta
To: Nojack Provincial Park, Alberta
Today: 56 miles - 120 miles total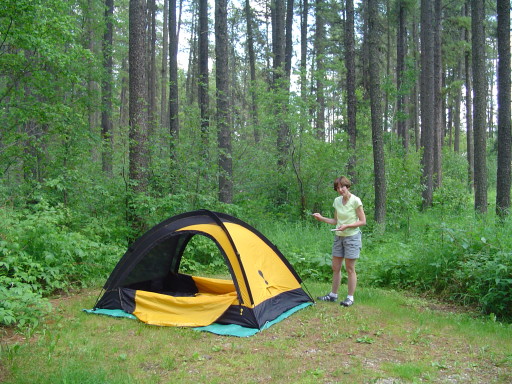 Alberta is the Wild Rose Province, hence the below photo. We traveled on the Yellowhead Highway (Rte 16) all day today. No really "Kodak Moments" to tell you about. Traveling the Yellowhead Highway is like traveling the New York Thruway, from Albany to Rochester. Mostly straight, but some rolling hills to keep you legs from falling asleep.

We had a rather rain filled evening last night, but it didn't bother me one bit. Give me a tent, and the great outdoors...stand back and watch me sleep. I think it was 7:30 when I began concentrating on the insides of my eyelids. The Rear Admiral slept good also despite my snoring and the fact that tent camping is not her forte. You have to remember that the sun doesn't set in this part of Alberta until around 11:00. SO the sunlight doesn't even effect me, when I am in a tent.

This morning, we decamped and rode into Wabamun for breakfast at the town diner. We were the first customers, at 6:45. Mary order her lumberjack special (two eggs, 4 bacon, 1 pancake...hold the hash browns the tour is in it's early stages); and my usual of pancakes with peanut butter. Note: If you're camping at the Park, there is a back entrance/exit (that you can either ride or hike) so you do not have to go all the way back out to the Yellowhead Hwy and down to the next exit. A savings of about 3 miles.

We visited two towns off of the Yellowhead today, Entwistle and Wildwood. Both have small populations ( 400, maybe) but both are full of life and activity. We spent more time in Wildwood, visiting the Library (we were offered a piece of Cake, Ruth's retiring today!) and Community Hall (Farmer's Market today, 11:30 till 2:00!). We also had lunch (Donairs - Canadian Gyros) at the Wildwood town park.

Not much else, riding on the Yellowhead might be noisy, not very scenic; but it is a true blessing in disguise. We need these days to get our touring legs and bodies back before we hit the Canadian Rockies. We also are very close to Canada's Independence Day (July 1). This year it falls on a Tuesday, so most people are taking a long weekend, or beginning their vacation on this weekend. High gas prices or not, Jasper will be very crowded the next 4 days. Hopefully we will arrive at the end of it.