North to South Tour - Day 5
06/29/2008 13:00:00 by Administrator
From: Edson, Alberta
To: Hinton, Alberta
Today: 57 miles - 217 miles total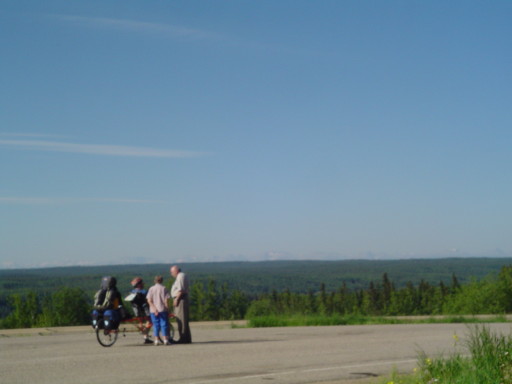 Today was a 10! A ten? Yes, and we are still on the Yellowhead Highway, and the Kodak moments have arrived in full force. Our day started with us making waffles at the hotel's continental breakfast and then following SeeMore out the door; we were on the road around 7 a.m. Because it is Sunday, early in the morning, and a holiday weekend our ride from Edson to Hinton was very quiet. Adding to the quietness was the ability to play peekaboo with the Canadian Rockies throughout the ride, until we were close to Hinton. The Rockies can not hide themselves from the city of Hinton.

We saw lots of deer and birds and due to light traffic we could actually talk to each other, without shouting. The temperature topped off in the upper 80's and the skies were blue. We are in the foothills of the Rockies, so there was a lot of going up and down, down and up. Today there was more up, because we reached the highest point on the Yellowhead Highway; then headed down into Hinton. While on the highway, we stopped at a road side rest area, and SeeMore was inspected, poked, pointed at, and discussed in full by an older Manitoba couple who were making their annual trip, to pester there children.

Hinton is a mining and pulp mill town, but oil is king. Hotels are being built fast and furious, because the oil field workers need places to stay. I don't ever remember two towns (Edson and Hinton) with a combined population of 16000, having 40 +/- hotels between them. Our hometown, Milford, has about the same population, and one (1) ten room motel! This is more proof that the price of oil effects everyone differently. We have parked ourselves at one of the nicest hotels in Hinton and have enjoyed the pool and jacuzzi. We are living large!

The Yellowhead Highway stretches from Winnipeg to Hinton so we are at the end. Tomorrow we will follow more of the foothills into Jasper.