North to South Tour - Day 8
07/02/2008 13:00:00 by Administrator
From: Jonas Creek Campground, Alberta
To: Rampart Creek Campground, Alberta
Today: 43 miles - 363 miles total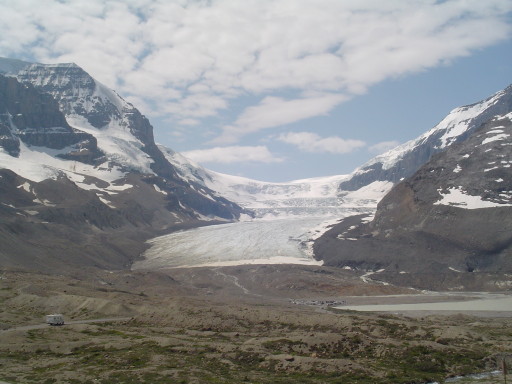 No rain the rest of the night, but the Rear Admiral did not sleep very good. Breakfast was oatmeal and bananas.

Over cast in morning, bright sunny day after lunch. Sunwapta Pass (6,676 feet) had our full attention before we stopped for lunch. What a climb. It seemed like we pedaled for 100 yards, took a break to fill our lungs again and take pictures, then pedal another 100 yards (repeat, repeat, repeat). As we allowed our hearts to return to normal, before the next attempt, all around us were glacier filled mountains. This scenery made recovering so easy! When we got to the top well almost the top, we encountered some pretty intense wind and had some problems with the chain. After some minor repairs and a bit more pedaling we made it to the visitor center. We had lunch at the Athabasca Glacier visitor center, watching the large wheeled buses deliver tourist onto the glacier. The glacier has really receded since the last time we visited (with Dustin and Katelyn) in 1998. Remember those buses guys? We wonder what it will look like, ten years from now. The lunch at the visitor center was ok, and price a little high...not like the prices for food at other stops so far in the park. We understand it is really remote, but we are warning other travelers about sticker shock. After lunch, we had just a short climb to finish off Sunwapta Pass. It feels like you are on top of the world up there. Going down was not that much fun, but it wasn't very long. We had a nice wide shoulder, and the traffic wasn't a problem. At the bottom of the pass, before the Athabasca Glacier, SeeMore's front chain fell off (knocked off by a huge cross wind?). As I fiddled with the chain, and the front idler, a couple pulled up to us. They had just purchased a Rans' Seavo (big brother to SeeMore) after 11 years of riding an upright tandem.

We are camping here at Rampart Creek, there is no drinkable water. Good opportunity to try out our MSR water purifier (which works really great). It is very quiet at all the campgrounds (besides Whistlers) so far. We have not seen very many campers/tourists from the US. There are a lot of mosquitoes here, so I am going to go hide in the tent.