North to South Tour - Day 12
07/06/2008 13:00:00 by Administrator
From: Radium Hot Springs, British Columbia
To: Skookumchuck, British Columbia
Today: 62 miles - 585 miles total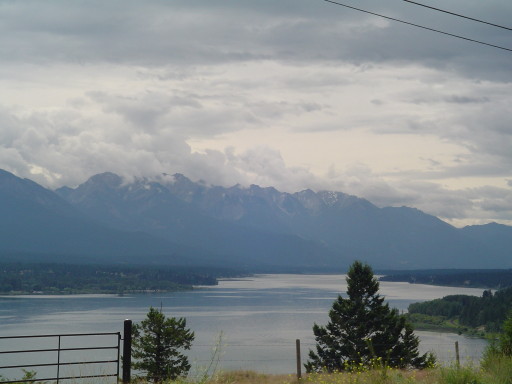 Go ahead, try to find Skookumchuck!

We climbed up out of Radium Hot Springs, into Invermere (9 miles on busy 95/93). Invermere is a very nice little town, population about 3000. We got new sunglasses for the Rear Admiral, wouldn't be a bicycling tour unless she loses her sunglasses at least once! We visited the grocery store, and got stuff for a picnic lunch. We talked to a number of locals, all very fun and out going people. Invermere is located on the hills on the north side of Windermere Lake (see top photo). It was fun exploring Invermere, it has a lot of things to offer.

We then rode the quiet West Side Road out of Invermere for 16 miles of bicycling joy! Lake views, mountain views, and a mixture of cattle ranches and summer/winter get-a-ways. SeeMore even crossed a cattle guard or two! We played hide and seek with the rain all day. Towards the end of West Side Road, we experienced our first liquid sunshine of the day. Not too bad, just enough to turn your shorts from a sold color to polka dotted. After West Side Road, we then cycled 14 miles on Columbia Lake Road, following the ......yup....Columbia Lake. We had our picnic lunch (bottom photo) overlooking the lake, with the Rockies in the background and a bald eagle flying by at eye level. How can we make a living doing this?

After lunch, it was dodge-ball with the rain on highway 95/93. We were very successful until about 2 miles outside Canal Flats, when it started to lightly rain. We raced into Canal Flats (out running two local Canal Flats Golden Retrievers!) and finding shelter under the porch of the local building supply store. Then Mother Nature turned the faucets on full. So we waited out the storm for 45 minutes. Route 95/93 is pretty busy but we are getting use to the noise level.

We are here in Skookumchuck, living large in a hotel room. As I am writing this, the Rear Admiral is not asleep (it's after 7:30!). We had dinner over at the local restaurant/gas station/food store/fishing equipment establishment. Try the Shook burger, and see if you can finish the whole thing. Thank goodness the Rear Admiral was there to help me with mine!