North to South Tour - Day 13
07/07/2008 13:00:00 by Administrator
From: Skookumchuck, British Columbia
To: Fernie, British Columbia
Today: 83 miles - 668 miles total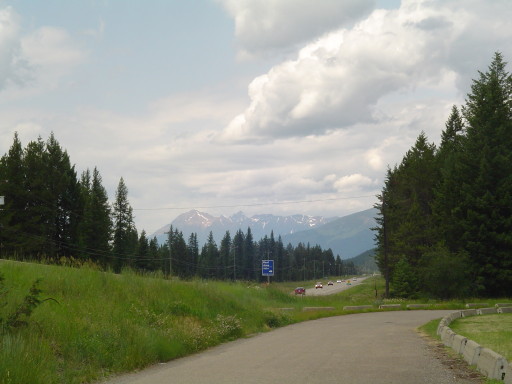 We are in Fernie, again, two times in two years! But we are getting ahead of ourselves.

Today was more of route 95/93, more logging trucks, more campers, and more noise(above photo). We had an early start, on the road by 8 a.m., remember Canada doesn't wake up fully until 10. In Wasa, you ride by Bill Nye (the science guy?) Mountain. After Wasa, we rode into the town of Fort Steele and had a Gatorade and gorp at the gas station/ camp ground. We then cycled the Wardner Fort Steele Road for 20 spectacular miles. This road started out with a steep climb, and ended with a steep climb. . . but in between was a flat quiet road with The Steeples (more Rockies) in the background (right side) and cattle ranches on the left and right. We even saw our first mountain blue bird! This is a road made for cycling!

At Jaffray we stopped for lunch at "The Perk". They have hundreds of hot and cold drinks, fresh baked goodies, and a great selection for lunch. This place is EVIL, unless your burning calories on a bicycling ride! At lunch we had tandem huddle, SeeMore and the Rear Admiral were ready to go for Fernie. I wasn't, but the more I drank my white chocolate expresso frappe the more my legs were jumping at the idea. So we were off!

There was a big climb in Elko, but after that the climbing into Fernie was very easy. We even found that tunnel again (you were right again Dad, there are tunnels through the Rockies). Route 93 goes south to Montana in Elko so the road into Fernie is Route 3. One day I hope they close the road from Elko to Fernie to all motor powered vehicles...just for one day. Then this part of Route 3 would be a cyclist dream! Riding up through the Rockies until you see the Three Sisters (more mountains) and Fernie, WOW! But until that day comes, fighting truck and car traffic takes you in and out of paradise.

We are here in Fernie, living large in a hotel room. Wow has Fernie grown in the past 2 years. I think I remarked last time that this would be a great town (population 5,000) to put roots down....I guess a lot of people are reading this log! There is an Alpine Ski resort so most of the new construction is vacation condos. We hope it doesn't grow too much, It is a very nice town just as is!