North to South Tour - Day 17
07/11/2008 13:00:00 by Administrator
From: Rising Sun Campground, Glacier NP Montana
To: Sprague Campground, Glacier NP Montana
Today: 37 miles - 879 miles total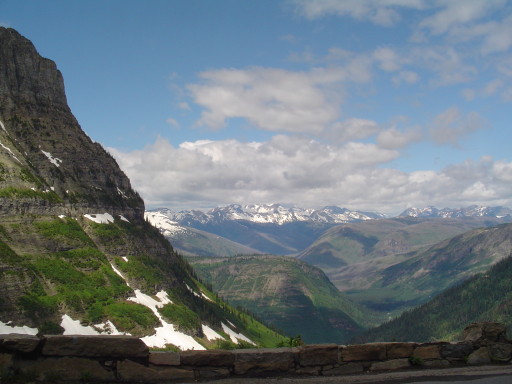 Perfect, Awestruck, Magnificent, Beautiful, Majestic, Magical, Amazing!

The Going to the Sun Road celebrates it's 75 birthday this year, and we were so blessed to be a part of it. From Rising Sun to Lake McDonald (east to west), the cycling today was surreal. An aroma of millions of Christmas trees, freshly snow covered mountain peaks (it snowed last night!), and blue skies filled our senses on overload. There was very little traffic going up in the morning. It was a steep 14 mile climb up to Logan's Pass (our third continental divide crossing on this trip), but it wasn't that bad at all. Maybe we were mesmerized by what surrounded us as we climb? We stopped 7 miles up (the first 7 miles are an easy climb) for a little admiral loo break. At the Little Admiral loo break we met up with Lavern, a gentleman we met in Skookumchuck B.C.. He is also doing the Great Parks tour, on a Bike Friday. He started in Jasper, and he will probably be in Colorado much faster than SeeMore....heck fire every bike is faster than SeeMore! It's been fun bumping in to him every once in a while .....back to the ride... we stopped just once more at Slyel Creek (for some Fig Newtons). The rest was one pedal at a time. We left Rising Sun at 7:45, and pulled into Logan's Pass visitor center at 10:30 (if your cycling, you need to be at Logan pass by 11!). Logan's Pass is 6,680 feet.

At the Logan's Pass visitor center we had a picnic lunch of PB&J sandwiches with Doritos, and watched a Bighorn Sheep scale the mountain across from the parking lot. Also.....Skiers were skiing down the slope behind the visitor center, then walking back up, and skiing down again. It was a cool 41 degrees at the pass, so we put on long pants, hats, and gloves and tried to stay out of the wind.

Then we started down down down. But we took our time, being on a bike you can pull over into little carved out niches and let the traffic go by. We only went a quarter mile down, before we took our first break and watched the mountain goats on the side of the road. I forgot to mention that Glacier now has shuttle buses, on the east side of Logan's Pass they are regular city size buses, but on the west side are smaller van type buses that are not as tall, (because of the many cliff overhangs, I 'm sure). Also there is a fleet of old 1930 red touring cars for hire. The Ford Motor company donated a pretty penny geting 30 +/- touring cars restored. You see a lot of these vehicles as you climb and go down the Going to the Sun Road, and they all wave at you! Photos? The Rear Admiral took many, many many photos, and even tried her luck making a few videos. We took more time going down, then going up! Photo break after photo break! As we passed the weeping wall, we got wet as the motorcyclists egged us on!

As we were waiting in line to go through the construction part (the park service has it's hand full keeping this road in repair!), the people in front of us got out of their car and noticed that SeeMore's back tire was flatter than a pancake. So we got out of line, went over to a little pull-out (with a spectacular view!) and fixed it. The valve stem was shot, so there was no way to patch the tubr, just got out a spare tube...and we were on our way (back into the next line going through construction). Construction was pretty long, and very muddy! During the road construction and afterwards, we kept going down down down, until we ended up at Lake McDonald. At the restaurant we ordered and devoured an apple carmel calzone (with two scoops of vanilla ice cream, and a huge pile of whip cream). While fighting off each other's spoon, we planned what to do next. SeeMore and I were pretty tried, so it did not take too much convincing to end the day at the biker/hiker site at Sprague campground, which is located about a mile from the restaurant (and right on the lake!). There are some great sites here if you get in early enough.

SeeMore had a bath (we need one too, but there are no showers here!). The Prince of Wales II is up, the last two nights we BOTH have slept well. I think we will make that three in a row.