North to South Tour - Day 24
07/18/2008 13:00:00 by Administrator
From: Jackson, Montana
To: Twin Bridges, Montana
Today: 88 miles - 1333 miles total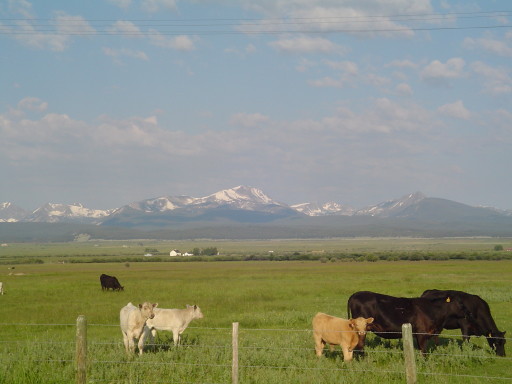 Happy Birthday Dustin! We miss you!

We are sitting in the Twin Bridges Library, and they close at 7:00 on a Friday. So I am going to write this in haste....there will be a lot of mistakes.

The above photo captures our view of Big Hole Valley for the morning pedal. This valley is 460 square miles and you can see FOREVER! We made it up Big Hole Pass without stopping, it was just a steady climb. At the top of the pass was an exhibit on Lewis and Clark and beaverslides. Beaverslides (see photo below) are large hand-manufactured devices made from lodge pole pine and fir, which they use to stack the hay they grow each year to get their livestock through the winter. After the exhibit, we went down the other side of Big Hole Pass and SeeMore has a new maximum speed record, 51.1 mph! It is SeeMore's gift to Dustin for his birthday. The next Pass was 18 miles after Big Hole. Badger was also just a steady climb, and when we reached the summit, we celebrated with an orange. Rte 278 has very little traffic on it, and was a pleasure to bike.

We cycled down into Dillon Montana, just missing a bad hail storm. Bill came up riding his sleek bicycle when we were about 1 mile from Dillon center. He had just come down the pass behind us, and was caught in the storm. He "escorted" us to Papa T's, a local restaurant. The portions were large, the service was good, and the price was inexpensive. Thanks Bill!!!!

From Dillon to Twin Bridges we cycled Rte 41, and for the first 10 miles we had very wide shoulders! Then the shoulders disappeared, but the traffic didn't. We cycled into Twin Bridges with a very bad lighting/rain shower closing in fast.

Tonight we are in Twin Bridges (population 400), at the Kings hotel. We are being taken to the cleaners for this 1950's room, but we will be warm and dry...ready for tomorrow's adventure.