North to South Tour - Day 27
07/21/2008 13:00:00 by Administrator
From: West Yellowstone, Montana
To: Grant Village, Yellowstone NP
Today: 58 miles - 1515 miles total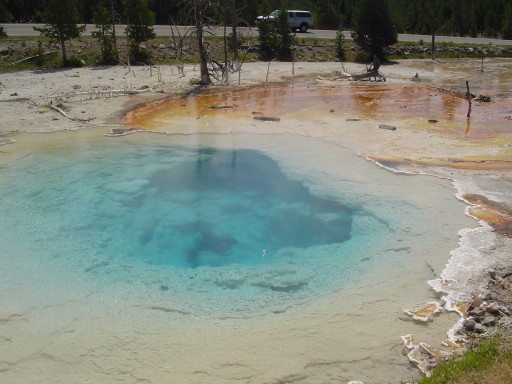 Everyone....Go and Cycle Yellowstone, but read this log entry first.

First, unless you are running on a bad tire and need to find a bicycle shop, don't go into West Yellowstone. It is very busy with tourist and over priced. Most of the restaurants and grocery stores are very crowded and as a result we had a HORRIBLE dinner at the Coachman Steakhouse on Madison Avenue. Don't go don't go don't go! It sealed our experience with West Yellowstone. We are not into the tourist scene, so if you like gift shops or nick nacks, West Yellowstone is for you. Even in the morning when we had pancakes at Old Town Cafe, and they were shorthanded; the pancakes and LumberJack special were ok but it sure took a long time.

We had a very FULL day today. We started at 7:00 am, and ended at 7:00pm. We entered the west gate of Yellowstone National Park and for the first 14 miles to Madison Junction there was a TON of traffic! Throughout our time in Yellowstone National Park there was little to no road shoulder. However, after the first (seeming never ending) group of visitors passed us, We totally stopped caring about the cars/buses/trucks/campers. We obeyed the road laws, and stayed as far to the right as possible (and safe), but we "zoned" them out. We just followed the mantra "we have as much as a right to be there as anyone else, so tough nuggies!", IT WORKED. Here are some other secrets. Pedal into every turn off, pull in, picnic area, overlook, etc. Most people are trying to get from point A to point B, and these allow you quiet oasis (and great views) of Yellowstone. If there are two lanes, take the right one....ride in the very middle. Traffic has to go between 25 mph and 45 mph, and in most cases you can be seen from a great distances. If you going to eat in Yellowstone (and we highly recommend it, both the price, quality and quantity of the food), eat at an odd time. AND you do not need reservations to camp, there are plenty of hiker/biker sites.

Signs of the forest fire that decimated Yellowstone Park in 1988 is disappearing. There is a lot of young tree growth, and these trees were planted natural by Mother Nature. It was amazing to see the difference from the last time we were here in 2000. Although we did not see a lot of wild life, we had a BLAST. We saw geysers, mud pots, painted pots, funnels, waterfalls, hot springs, and Old Faithful (but he did not blow!). We took in walks and hikes, and just enjoyed it ALL. After lunch (2:30) at the Old Faithful cafe, we climbed two mountain passes; Craig Pass (8,261 ft.) and Gary's Pass (actually our name for it - 8,391 ft.). "Gary's Pass" was our tallest pass, to date, and we have now crossed the Continental Divide 6 times! These passes were just steady rides, and since we were already at 7300 ft. at Old Faithful, they were less challenging.

We cycled into the Grant Village campground tired (and just ahead of the rain!) but not from the cycling. We were tired because of everything we did during the day. We didn't rush, we had plenty of time for everything...it was just one thing after another. We set up The Prince of Wales II and stored everything inside. Got on SeeMore, and cycled to the showers as the rain came down. Why did we need showers, when Mother Nature was doing such a fine job! But the Rear Admiral says SHOWERS, and that is what we do. We ended up eating our backpacking dinner in the rain. Later, after dinner, we had a neighbor stop by and talk to us about cycling. He is from St. Louis, and he recommend doing the Katy trail....which is on our list.

For me, this was the best way to see Yellowstone....on a bicycle.