North to South Tour - Day 30
07/24/2008 13:00:00 by Administrator
From: Dubois, Wyoming
To: Lander, Wyoming
Today: 75 miles - 1703 miles total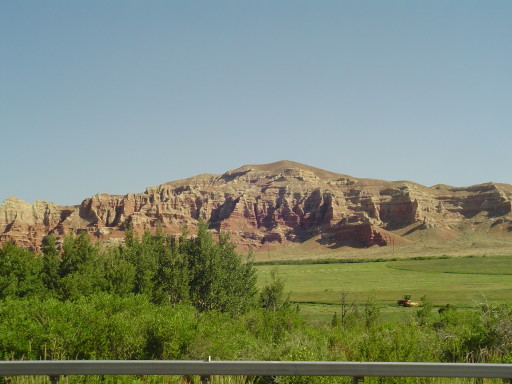 A tale of two rides, in one day.

We had a nice stay at the Rocky Mountain Lodge. It is located on the northwest side of town. The owner is a fellow cyclist, and went out of his way to make sure SeeMore was taken care of properly! Thank you! We were debating whether to take a day off in Dubois or venture on. We needed to visit the bank, which didn't open to 9:00. Because it was going to be a hot day (temperatures in the high 90's) and it was going to be a high mileage day, we needed to be on the road early. Dubois is a one street town, with a population of about 1,000 people. It has charm, but not really that much to do. So we had breakfast Cowboy Cafe, and were not disappointed. After the bank and an Rear Admiral break, we were on our way at 9:30 am.

The red buttes and the Wind River for the first 10 miles were beautiful and had us captured. Then the landscape changed to nothing but sage bush and desert. Rte 26/287 was very quiet (BECAUSE THERE IS NOTHING OUT HERE!); we had a tailwind and we were losing elevation on the rolling landscape. We must have been averaging 18 mph, which for SeeMore, is a Tour de France winning speed. We made it to Crowheart (population 165, maybe) with little effort, and had Gatorade. You know you're in the a remote area, when they charge you 50 cents to fill up your water bottles. We then continued to sail to the rest area near the intersection where 26 breaks away from 287. A great place to have lunch. The information sign at the rest area describing this area as a dry, desolate, desert is very accurate. So we had cycled 35 miles by then, and I made the comment...if there was a stop beyond Landers....this would be an easy 100 miler day. Boy was I wrong.

We had a short but steep climb for the first 2 miles on Rte 287, then as we were almost on top of the butte, a white 2003 Honda van with a group of teenagers in it...threw a water balloon at SeeMore, hitting me in the left shoulder blade. It didn't break until it hit the ground, and because we were so surprised...we did not get the license plate. It was really no big deal, but in the middle of sage bush after sage bush....it woke us up! We all had moments in our teenage years that we have something we thought was cool, it was just payback time for us. Then we started down the butte, and what should have been fast sailing, turned to a hard grind against the wind. Imagine miles and miles of sage bush, it looks like your going down hill...and your pedaling as hard as you can, going 5 mph. Then things went from bad to worst. There were dark clouds on the horizon, and the wind started to gust at 50 mph (we are guessing). It blew SeeMore clear across the road, after correcting and getting back on our side....the wind blew SeeMore again across the road AND blew his front chain off. About a quarter mile, down the road there was a side road which we finally cycled to. We were 8 miles from the nearest town, in the middle of sage bush with gusting wind. So we just sat for an hour and a half. At some point, the wind knocked SeeMore over. He was leaning pretty heavy on a stop sign post, and he is no light weight (at 100 + pounds), so you can see just sitting there on the side of the road was quite challenging!

With the black skies heading away from us, we resumed our cycling into Fort Washakie (population 300, maybe). As you can imagine, it was a tough ride. We filled up our water bottles again (50 cents per) and had an ice cream sandwich and candy bar to go along with our Gatorade. The last 15 miles into Landers was headwinds, crosswinds, or tailwinds. We are here in Landers living large in a hotel. We are a little weather beaten, but are in good spirits.