North to South Tour - Day 36
07/30/2008 13:00:00 by Administrator
From: Walden, Colorado
To: Granby, Colorado
Today: 55 miles - 2019 miles total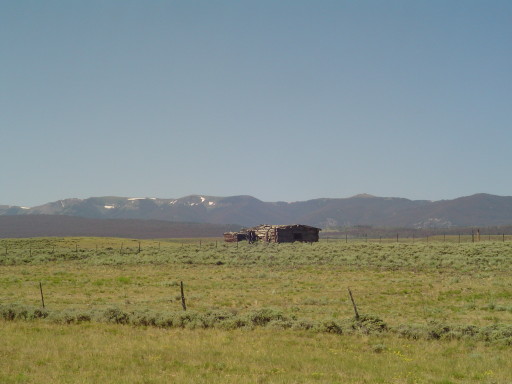 Today's ride was a 10! If you have a chance to cycle Rte 125 in Colorado, do it!

We woke to find frost on both the Prince of Wales II and the freshly cut grass of Walden's city park. We also noticed that the 4 cyclist from Oregon....had been forced to move their sleeping area. Well, they can't say we didn't warn them! I had one of my best nights, while the Rear Admiral spent a bit of a chilly night.

We let the Prince of Wales defrost, and had breakfast in town. Nothing bad, they had Cowboy French Toast on the menu (this time with almonds and raspberry sauce), so I went for it. Returning to the city park, the other cyclist were up and their sleeping bags were in the trees being dried by the morning sun. We packed up, and headed out on ultra quiet RTE 125. It was so quiet, that SeeMore decided to ride next to the center line, for 90 percent of today's adventure. We cycled through the Arapaho National Wildlife Refuge, where we saw hundreds of ground squirrels, chipmunks, and prairie dogs. There were also lots of raptors (hawks, eagles, and falcons) keeping an eye or two on the ground. There was almost NO road kill on Rte 125, all day long. However, the pine beetle has done HUGE job on the pine trees. It looks like aftermath of a brown forest fire. Thousands of acres have been destroyed by this bug.

We stopped in Rand Colorado, at the only store. It was more of a gift store, but they also had cold drinks and a rest room (privy). We had oranges, Gatorade, and gorp; then proceed up and over Willow Creek Pass (elevation 9683 feet). We crossed the Continental Divide (our eleventh on this trip) when we finished this mountain pass. We did not use our low gear ring, so it was not hard at all. It was, however, beautiful (except for the pine beetle damage)! Snow dotted mountains, trees, small water falls, Willow Creek.....what more could you ask for ( maybe a moose or two).

We had a picnic lunch at Denver Creek campground, at a water front picnic table right on Willow Creek. We are living semi large in Granby at a motel. We have no Internet (no big deal), but have a railroad running by across the street. Tomorrow we are going to ride light (with very little in our panniers and no Bertha backpack) into Rocky Mountain National Park. Depending on the riding conditions, we will ride as far as we like....then turn around and spend another night here in Granby.