North to South Tour - Day 47
08/15/2008 13:00:00 by Administrator
From: Sunshine Campground (USFS), near Telluride Colorado
To: Mancos Colorado
Today: 76 miles - 2578 miles total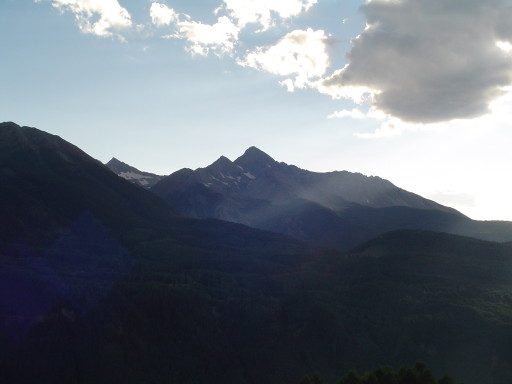 Lizard Head Pass, our last mountain pass on this adventure.

Last night, on the rim of the canyon, two coyotes thought it would be cool if they would see how will their voices echoed through the canyon. Since the rim was only about 100 yards from the Prince of Wales II, our sleep was interrupted for 30 minutes.

The Prince of Wales II was down, and we were packed up by 7:30. Hot tea and oatmeal for breakfast, to warm us up on this chilly morning. Our ride started with a short climb then we dropped for about two miles (500 feet down) before we started to climb Lizard Head Pass. Climbing this part of the San Juan Skyway, your ride past 12,000 and 13,000 mountain peaks, along with beautiful mountain lakes and pastures. The climb was steady and we reached the pass around 9:30. After a short break for a kodak moment in front of the pass sign, and to read the tourist information about the old railroad etc. it was time for our 40 mile decent to the town of Dolores. YES that's correct 40 big ones with no pedaling, well....almost....we had a pretty good head wind, and there are a couple of small uphills going around some canyon walls....but as you can imagine, it was very easy cycling. Descending the Dallas divide yesterday and coming down from Lizard head today have to be our all time favorite down hills. Very little brakes needed, just gradual grades. On the way down, in addition to the spectacular scenery we spotted two golden eagles (at very close range!) and a yellow bellied marmot.

Near the town of Stoner the road begins to level out. You descend into the tree covered canyons and foothills of the Rockies. In Dolores we had lunch, and then it was on to Rte 184 towards Mancos. A few words about Mesa Verde National Park. Dustin, Lauren, the Rear Admiral, and I visited Mesa Verde together, in a car. So we did not continue the 11 miles to down Cortez on route 145, and then towards Mesa Verde. Mesa Verde National Park is a must visit, if you are in this area. There is a steep, but doable 4 mile climb into the park, from route 160. We suggest you camp at Morefield (after the 4 mile climb), then take the shuttle to visit the ruins. The park road goes up and down, left and right, over hill and dale and it has no shoulder...well you get my drift. You will be viewing (and climbing in and out of) indian ruins, so taking the shuttle would have been the way we would have explored this World Class Park if we did not go with the kids.

Rte 184 is a 18 mile cut-off towards Mancos, and it rolling. It is not filled with as many spectacular views, as the rest of San Juan Skyway, but it is an enjoyable ride with shoulders and little traffic. We are living large in a hotel in Mancos. The Rear Admiral is very glad that I have taken a shower! Tomorrow we ride into Durango, and end pedaling for this adventure. SeeMore deserves a well deserved rest, don't you think?