Around Lake Champlain - Day 1
06/29/2004 05:36:59 by Administrator
From: WhiteHall, NY
To: West Addison, Vermont
Mileage: 54.8

---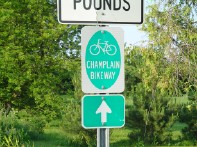 Mary and I left Milford in the rain about 7:00 am and made it to Whitehall under clear blue skies. I emailed the Chamber of Commerce of Whitehall early in the week, and they recommended parking at the Amtrak station, it is about a city block north of the Skeneborough Museum. This is the "starting point" of the Lake Champlain bicycle loop if you follow the instruction on
http://www.champlainbikeways.org
. The small museum houses information about Whitehall (formally known as Skeneborough) and the beginnings of the United States Navy.
After unpacking and getting B.O.B. and Clyde ready, we took off to find the police station. Arriving at the police station, it was locked but it had a non-emergency number to call. We got the Chief in the middle of a court case (I could hear the Judge in the back ground). The Chief of police for Whitehall was extremely nice, so if you see him offer him a cup of coffee! After leaving our names and the cars whereabouts, we pedaled back to the Museum. Next to the Museum is the Chamber of Commerce, which is brand new, and located on the canal. It has showers and rest rooms for the public. You can take your boat from New York City up the Hudson River, through the canal systems and Lake Champlain to Montreal and the St Lawrence Seaway!
The bicycling journey began shortly after 11:00. I had two sets of directions, one going through New York to Quebec and then back down through Vermont. The other set was just the opposite. I handed Mary (I thought) the New York to Quebec route. We started across the bridge, and the canal and I asked Mary if she was reading the directions right. She said she was so we were off. About 7 miles into the trip I saw a farm that offered real Vermont made maple syrup for sale. I asked Mary for the direction and noticing my error, we had a good chuckle. The first really big hill was around the 5-mile mark; the day was a very hilly ride. Clyde was towing B.O.B. and he weighed in at 57 pounds fully loaded. The scenery was legendary Vermont, beautiful rolling hills, Green mountains, wild turkeys, blue herons, red-tailed hawks, many common eastern birds, and tons of farms, views went on and on. We stopped in Orwell Vermont at Buxton General Store. Purchased bananas, drinks, and freshly made chicken salad sandwiches and had a picnic in the park across the street.
After lunch, we headed out again. About 35 miles into this first day, the extra weight of the B.O.B., the Vermont hills, and the lack of excise the previous week; caught up with me and I developed leg cramps in my thighs. As I sit here at D.A.R. state park I can honestly say that everything feels GREAT, but I am concerned about tomorrow. Mary was very patient with me. We walked some hills that normally we would have no problem with. We arrived here around 5:30. We are staying in a lean-to because it looks like it might rain tonight. We enjoyed pizza and salad at the West Addison General Store. I even had a beer, well only about 2/3 of it before I decided that I have lost my taste for beer.