25th Anniversary Tour - Day 10
06/26/2006 03:15:52 by Administrator
From: Rochester, NY
To: Lockport, NY
Mileage: 68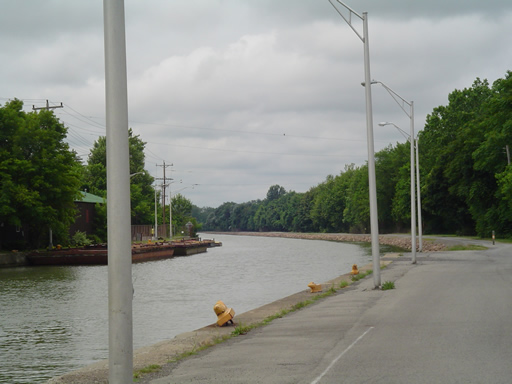 Wow! Today was 98% bike path. Weather was overcast and threatening us with all kinds of rain, but once again we were spared. A couple drops of liquid sunshine fell on us heading out of Rochester and then again, on the last mile around Lockport.

We cruised all day, with a tailwind! The paved bike path led us safely out of Rochester and turned into crushed stone from Greece onward. Very easy riding, with one monster of a hill at the end of the trail in downtown Lockport. The only thing we had to worry about were geese droppings that made navigating parts of the canal-way very interesting. Onlookers might have question the amount of beers these tandem riders were consuming.

Kingfishers, orioles, hawks, cardinals, finches, geese, heron, red wing black birds, and other birds were in abundance. We rode into a couple of the small towns that were founded as the Erie Canal was being built. We had breakfast in downtown Spencerport, and lunch in downtown Gasport. Almost every town ends with the word port. We had a number of houseboats as companions going towards Buffalo. We watched the drawbridges raise and lower for some of them. There were only two locks on this part of the journey, both in downtown Lockport.

We had the trail to ourselves most of the time, unless we were coming to or leaving a town. We did meet one other person on tour headed eastbound. They were traveling very light only two small panniers. I (Mary) couldn't believe how little they were carrying. I guess you can make the trip from hotel to hotel and most of them are pretty nice. I'll tell you though, every once in a while your tent looks a darned site better than a few of these hotel rooms.

Dustin will meet up with us tonight for one last dinner before we head into Canada. This will be our first trip west without the kids, some things about kids growning up really s#*&. However, without their help (keeping the home fires burning) this trip would not be possible, so thanks Dustin and Kate for everything. We love you.