25th Anniversary Tour - Day 11
06/27/2006 03:17:23 by Administrator
From: Lockport, NY
To: Port Colborne, Ontario
Mileage: 59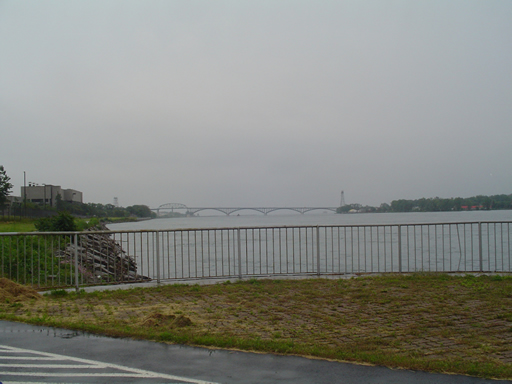 We headed out of Lockport this morning and the sky was lead gray. Knowing that our luck was about to run out we had our rain jackets within easy reach. Our adventure this morning was to get though Buffalo and over the Peace Bridge into Canada. Noel had obtained a map of bicycle routes in the greater Buffalo area so we had an excellent reference to guide. Too bad the navigator was not as good as the map and as a result we did a little off-roading down an orange dot trail (not complete trail) that unfortunately just lead into the woods. I think Bertha (our very large backpack) knew we were headed the wrong direction because she jumped off twice (could have been the bumps?). Before too long we got straightened out and back onto the correct road. We were having a lovely ride though some very pretty countryside when all at once the heavens opened up. Fortunately, we were able to stop under a big tree for some cover to get our rain coats on. A lady came out of her house and asked if we would like to come in out of the rain. We said thank you, but just asked if she could steer us to a place for breakfast, which she did.

Back on the road after breakfast with the Rear Admiral wearing all of her rain gear on (I decided it was too light drizzel for rain gear) we hooked up with the River trail that runs along the Niagara River down to the Peace Bridge. This is a terrific trail, very pretty ride. It is well marked until the end where it stops in Broderick Park. [Mary] From there we pretty much had to feel our way to the bridge. But Noel's sense of direction saved the day and we went right over. There is a sidewalk along the bridge so we did not have to ride the bridge with the cars.

We zipped right though customs! She did not even ask us our names, just the purpose of our visit. The border guard was so nice, she even took the time out to show us the way to the trail. The rest of our trip today was on the Friendship trail though beautiful countryside. Both bicycle trails today where fantastic. The Friendship trail now reaches from Fort Erie to Port Colborne, with only a little break when you have to go on a dirt track through Erie Park.

We are now drying out in a hotel in Port Colborne. This was a great test to see how water proof everything is.