25th Anniversary Tour - Day 12
06/28/2006 03:18:49 by Administrator
From: Port Colborne, Ontario
To: Port Dover, Ontario
Mileage: 63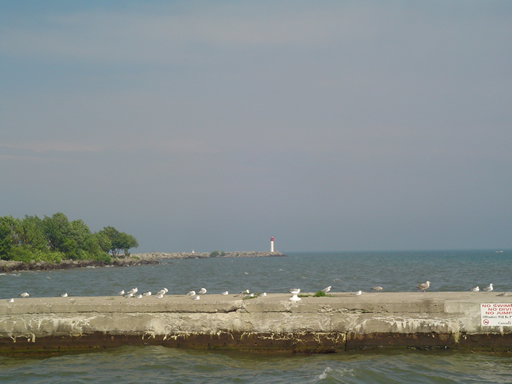 Another great day of riding! The Adventure Cycling maps lead us out of Port Colborne along Lakeshore drive. We followed the coastline of Lake Erie for 95 percent of the day today. We passed miles and miles of summer cottages (with a sprinkling of luxury houses) as we rode along the water's edge. This was our first full day using the Adventure Cycling maps, and we saw a couple riding east bound on a regular tandem. We met a young man riding from Minnesota to New Jersey while we were eating at the Sunflower CafÈ in beautiful downtown Selkirk. He was doing it solo, I'm not sure I could. I am glad the Rear Admiral is along with me on this adventure.

The Canadian drivers are wonderful. When we were on the roads next to the lake, it was like riding on a bike trail. Once, about every two miles, a car would pass us with a wide berth and a friendly wave or honk.

Outside of Nanticoke two touring cyclists (Amanda and Mike) rode up beside us, and we carried on a conversation all the way into Port Dover. They started in Boston and are trying to make it to Montana in 3.5 weeks. A great couple, and hopefully we will meet up with them again. You can read about their ride here.

Tonight we are right near to lake, and plan to explore the beach and town. SeeMore, the Rear Admiral, and I are enjoying our adventure very much!