07/16/2006 05:11:14 by Administrator
From: Moorhead, Minnesota
To: Cooperstown, North Dakota
Mileage: 104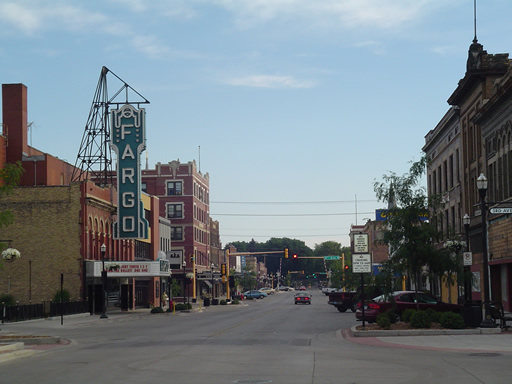 Shsssh, be quiet and we'll tell you a secret. Make sure no one's reading over your shoulder. All set, is the coast clear? Ok, here it is. . . . TAILWINDS (when heading west) in North Dakota!

The roads are good, smooth and FLAT; the drivers are courteous, and we had tailwinds. Now if we could only get rid of this 100-degree weather. . . . but it only got really hot after 3:00, and by then it is time to seek relief.

One of the activities that we haven't mentioned enough is our pleasure in riding around and exploring downtowns. Most towns we travel in are only 4 city blocks in size, so the adventure doesn't last very long. At this slower pace though, your opportunity to experience each community heightens, which is one of the reasons we enjoy touring by bike. Even though Fargo is NOT a small town, it has that feel to it, at least to us. Riding around at 7:00am on a quiet Sunday morning, we explored the different neighborhoods and business areas that Fargo has to offer. Moorhead has the retail, and Fargo has the charm.

We had breakfast at Mom's Diner in downtown Fargo (yes the Rear Admiral had the lumber-jack special and I had the 3 pancakes with peanut butter). Breakfast is an important meal for us, and it is relatively inexpensive (you get more bang for the buck). We have tried to make breakfast for ourselves or eat the free continental breakfasts some hotels have to offer, but the riding afterwards is not as enjoyable because we both quickly run out of energy.

After breakfast we rode past the train station, and also the downtown (Broadway Street), again. Fargo has statues of different colored Bison all over the city, like Bennington Vermont once did with moose. There is a mixture of open shops, and buildings trying to rebound from the suburban retail craze. After downtown, we rode past the University of North Dakota and finally the airport until we were out into farmland again. This time less cornfields, no dairy farms, and now sunflower fields.

Flat, tailwinds, and fields made up this day's riding experience. We learned that the small town grocery stores are closed on Sunday, but we were looking only for breaks from the sun because we had plenty of water and food with us.

We had lunch at the Page Cafe, in downtown Page (population 248, maybe) with all the citizens of Page, who just got done with church. Main Street was very wide and every one just parked their cars in the middle. If you are ever in Page, try the Cafe! I had TWO homemade chocolate caramel cupcakes!